About Woocommerce
WordPress was originally released in 2003 and few people could have predicted the impact that it would have. Roughly 75 million websites are built in WordPress, which is about 26% of the web! If you want to do e-commerce in WordPress there is only one option as far as I'm concerned, and that's Woocommerce. I have the numbers to back me up here. According to the Woocommerce website, there have been 22 million downloads of Woocommerce. That might not necessarily mean there are 22 million sites running Woocommerce, but it is still a healthy number and shows strong support for the software. One number we can feel more sure about is the percentage of the e-commerce market that Woocommerce holds and that is a whopping 41% of the market share. That is to say of all the e-commerce systems, such as Magento, Squarespace, Shopify, etc, Woocommerce owns 41% of that space, with Magento and Shopify coming in second at 5% each. To me it's almost a no-brainer, if you are serious about e-commerce then look no further. Woocommerce started in 2008 and has gone from strength to strength.
How much does Woocommerce cost?
It's free and there are no transaction fees either! That said, there are a bunch of plugins that you will have to pay for and they can add up in price if you are trying to do something more complicated. One such plugin that springs to mind is Woocommerce Subscriptions. This enables you to sell subscriptions to your users/customers and take money from them on a weekly or monthly basis or another specified interval. It costs $199 USD for a single license, but if you get a bunch of subscribers to your products then chances are that cost will be a drop in the bucket. Remember, we web developers need to fund our caffeine addiction somehow so we can stay up all night writing cool software for you!
Woocommerce Features
Here are some of the features you get with WooCommerce:
Can sell digital and physical products, eg PDFs or teeshirts
Address detection using Geo-location – great for shipping and tax calculations
One page checkout is an option
AJAX to stop a page reloading when a customer adds something to their cart
Product categories for organizing your products
Shop by brand
Inventory management – track, hold, and mark products as 'out of stock'
Guest checkout or create an account
Product reviews
Reporting and analytics
Discounts and coupons
Mobile friendly.
What other cool plugins are there for Woocommerce?
Surely keeping control of your stock between your website and your physical store has to be one of the toughest things to work out in business. This is where Woocommerce POS comes in. Check out the image below (courtesy of WooPOS).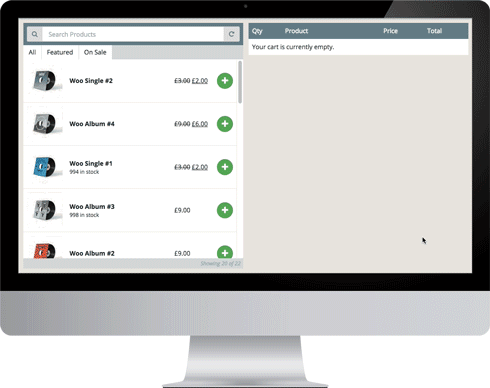 It operates like a regular POS setup, but when you sell something in your physical store, it automatically removes it from the stock level on the website. This saves the nightmare of having sold something in-store and then realizing that someone brought it on the website before you got to remove it. You can also have 'POS only' products that won't display on your website. There is the option to run it on a tablet, and add a cash drawer, receipt printer, and barcode reader for a full commercial Point of Sale setup.
Besides Woocommerce POS, there are a gazillion other plugins for Woocommerce and also WordPress that you can use to ensure your e-commerce setup is as good as it gets.
Payment Gateways
There are 5 payment options that come with Woocommerce although additional payment gateways are available as plugins.
Included:
Check Payment
Cash on Delivery
PayPal
Direct Bank Transfer
Simplify Commerce (US-only)
For Australia and New Zealand, two of the most popular payment gateways are supported as plugins, which are e-Way and DSP Payment Express.
You can see the full list of support payment gateways here:
https://woocommerce.com/product-category/woocommerce-extensions/payment-gateways/
Summary
Numbers speak for themselves when it comes to selecting a website and e-commerce system. Sometimes there is almost no decision required and if you are serious about e-commerce, then this is one of those situations. It's Woocommerce and WordPress all day. That combo is the same as buying an Android if you looking for a phone (yes it's bigger than the iPhone/IOS), a Canon if you buying a camera or a Toyota if you are buying a car. Well-known brands are number one for good reasons. If you need help setting up or getting your e-commerce website performing don't hesitate to get in touch with us.